I sometimes feel a little guilty taking SO much from this site and giving very little. So I snapped some pictures throughout the process of making my third homemade pick and thought I'd share them. For many of you, this whole process is like second nature, but I thought it'd be neat for you to see what all your posts have helped me do- thanks guys

I came across some old knives at my local second-hand store. I'm not to keen on recognizing good stainless steel from bad, but they looked fairly old, and they passed the "bend test". So, I bought all four of them for only 40 cents. I wanted to make a duplicate of one of my favorite picks from my slimline set - deforester 1/2 ball.
The template for this was obviously pretty easy.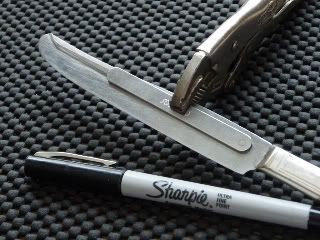 Then it's off to the bench grinder. This probably takes me longer than it should, but I'm always afraid of over-heating it. So I take it down very slowly, quenching it in ice water after every 2-3 light stokes. Leaving the handle on the blade for this initial phase made for easier work and more control.
I'm left with a rough, but fairly precise shape.

An assortment of hand files (+ some time) brings me closer yet.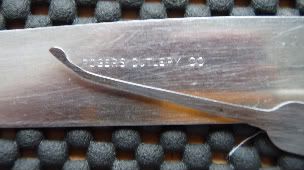 One more problem though before I can start sanding. As you can see, the width is perfect for the handle but way too wide for the pick. I was tempted to use the bench grinder, a belt sander, or a dremel to thin it out, but was too afraid by this point

. Anyway, I'm glad I didn't. Some adhesive sandpaper on a piece of wood gave me a very controlled taper in much less time than I had expected.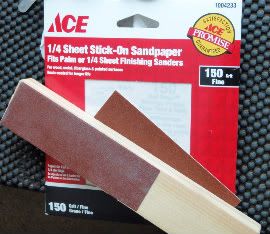 Now for the sanding phase. This could be exhausting if it weren't for the fact that I rather enjoy it (and I'm a little on the obsessive side

). Grits: 220, 400, 600, 800, 1000-wet, 2000-wet, and finally, a dremel and some toothpaste. Did someone say mirror finish?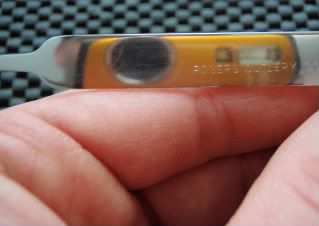 I've been using this pick for several days now and absolutely love it - hence, way too many pictures (sorry about that). The specs are nearly exact to that of my SouthOrd slimline, right down to the weight at exactly 3 ounces (unintentional). It's just as small but with
far
less flex, giving me
alot
more feedback.
Thanks again to
everyone
here who help make this hobby so enjoyable for me.