Found this bypass yesterday while trying to decode this lock. I still haven't managed to decode it (although i'm thinking now that it's open that i should be able to do something by putting pressure on the combo change clutch thing and messing with the wheels, if i figure that out i'll post that too)
This lock doesn't seem to be vulnerable to the same methods of decoding as sesamee or master 175. The packaging touts it's high manipulation resistance.
To open the lock you must first enter the correct combination, then push down on the shackle. It will then spring open. I'm using a 180 marine, if anybody has other 180's to test on let us know if it works.
First off, here's the lock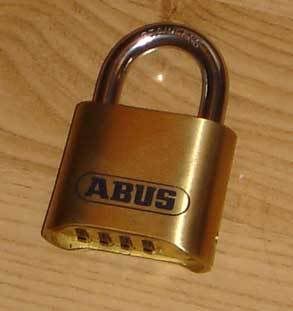 Step 1 is to insert something very thin, no wider than about 1/8", and at least an inch and a half long (preferably about 3 inches at least). I'm using a weiser shim pick, or so i've heard these things called. Insert it to the upper left of the first number wheel. Angled slightly downwards, it should go right in with no difficulty. It has to go in at least 1", and will not stop at about 1-1/2" which is fine.
Inserting the tool
Close-up of where to insert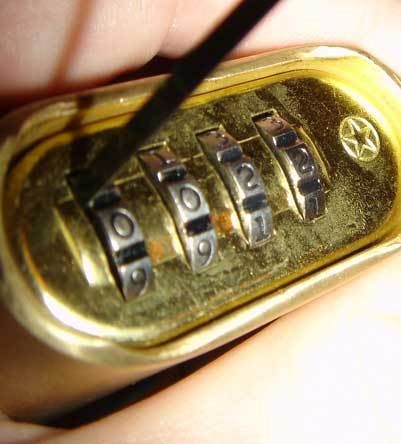 Step 2 is to lever the tool so that instead of being angled downwards, it's now straight. You will feel a slight springiness. My hands are painty.
Levering the tool
Step 3 is to push in on the shackle.
and....
that's how to open a high manipulation resistance 30+ dollar padlock in about a second.