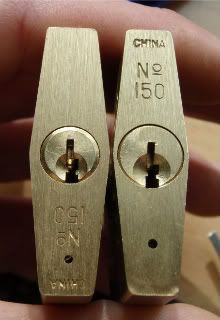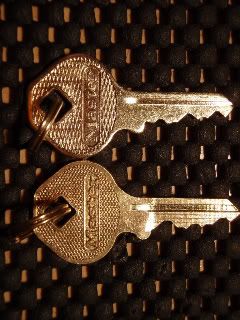 Unfortunately, I can't remember where I bought each of these, but I do know they were both purchased within a few days of each other sometime during the last 2 months. When I realized a bypass method could easily be done with one but not the other, I was prompted to examine them a little more closely.
Looking at the pictures you'll notice several differences. The placement of the drainage holes are slightly different, as is the etching (at opposite ends). The key heads are a little different too. But, the most noteable difference is in the plugs: one is larger and flat, the other being smaller in diameter with a beveled edge.
Haven't spent alot of time on this, but I did browse the internet a bit looking for any news, articles, patents, etc. pertaining to any recent changes Master Lock may have made. No luck though. Any thoughts on this?
Oh, an after-thought:
If
Master has made changes, and,
if
those changes have anything to do with fixing the inherent flaw which allows them to be so easily compromised- It's about time! It's amazing to me that companies like Master, Brinks, and American will spend the time and money to fill their locks with security pins, yet ignore such weaknesses for years before doing anything about it.