I wanted to show these to all of you. I found them while I was looking for some Falle wrenches.
As it happens, MBA appears to be the only source for Falle-safe tools in the US. While I was shopping I found these picks.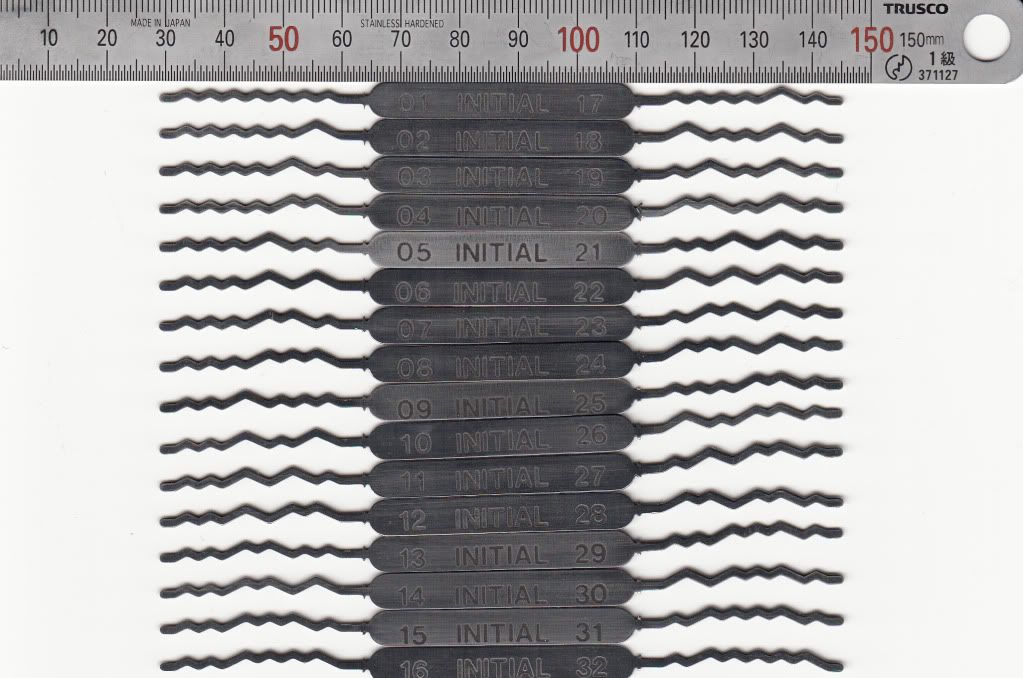 I have always been hooked on tools of all kinds. I have had plenty of luck with my normal picks, but when I saw these I had to have them. They look very similar to the HPC computer generated picks.
While I was there I ran into Mark and we got talking about the source of these picks.
I think that most of us know the story about the HPC computer generated picks. It is claimed, and this is the story I have been told, that those picks were actually copies of a set of picks designed by the Israeli, and that a security specialist made a photocopy of the original waveforms but in the process enlarged the image for greater detail. This is why the HPC picks are just a little too large. Anybody with differing or confirming info please, jump in.
Anyways, these picks are made by a French company called, obviously, Initial, and according to Mark are the original waveforms created by the Israeli.
When I got these picks they came in an expandable tool tube the likes of which you get with mill ends and certain drill bits. They come with a nice double ended tension wrench which would not scan well on my scanner but we all know what a tension wrench looks like.
When first opened they appear a little dull and the edges are quite sharp. The waveforms are very exact and well defined. My first use resulted in immediate success. I had a Schlage and Kwikset lock lying around and the Kwikset opened immediately. I mean immediately. The second pick I inserted opened the lock as though it were the key. I was able to repeat this with the same lock several times with different waves. The Schlage lock was a little more difficult but after a little manipulation was able to be opened shortly.
The only problem in the whole ordeal was the sharp edges of the picks made insertion and gentle manipulation a little difficult. I believed that the edges were catching on the softer brass of the keyway and pins. I sat down with a cotton rag and a tube of Flitz and after about an hour of hand polishing had polished the picks to a beautiful shine and very gently smoothed the edges. From this point on, insertion and manipulation was quite easy and I found no change in the performance of the picks.
My scan does not do them justice. They are very smooth, polished, and quite thin. If I am plan on using them for any period of time I usually have a couple of Band-Aids on to cushion the impact on my fingers.
I bought them more for a curiosity, though they do work, and they probably won't make it into my field kit. Still, if you have $64 lying around they are cheaper, have more patterns and I believe work better than the HPC computer picks. Worth picking up.
Any questions, please feel free to ask.
~Jesse