Welcome to the site!
Thanks for taking the time to read this. Lockpicking101 is a community of both hobby and professional lockpickers who have gathered together to learn about the craft. This site has a wealth of information, and it is worth reviewing some important threads to get yourself familiar with the site. If you came to Lockpicking101 to find some specific information, there is a good chance you'll find it here in one of our many existing threads. If not, feel free to post a question in the appropriate forum. Just one other note. If you came to the site looking for methods of doing illegal stuff, please move along. You will not find our members very accommodating. With that said, begin your journey.
Before going any further, please take the time to read the site rules by clicking the following link:
Now then, following is a list of links to threads that discuss commonly asked questions. Browse around and see what you like. Maybe you'll find the answer to the question you're looking for.
Site Use and Etiquette
All About Tools
All About Skillz
Searching the site
As well as the above, the other great way to find information is by using the search feature built into the site. It can be located by clicking the little search icon that looks like this:

Search

near the top of the page. You will get a page that looks like this: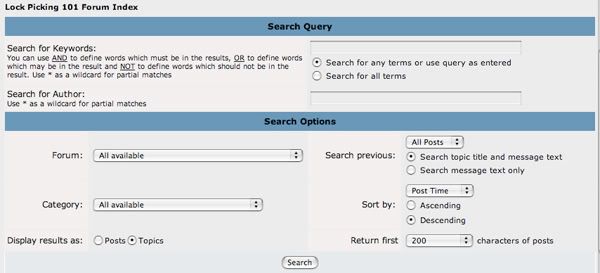 When used properly, this is a very good search engine. If you read the information directly below the line "Search For Keywords:" you will see that you can use several methods of refining your search parameters. So, if you wanted to search for "Pick Guns" but did not want to get information on "Electric Pick Guns" you could search for "pick gun NOT electric" to get a more refined search. In this example (at the time of my writing this) a search for "pick gun" returns 593 matches, where a search for "pick gun NOT electric" returned only 202.

You can see that you can also search based on a specific forum, or even forum category. This will also help you narrow down your searches.

You can even specify how far back the search engine will go to limit the number of topics it returns, and determine how you would like these topics to be displayed.

Thanks for taking the time to review the above information. I'm sure it will make your time here on Lockpicking101 more productive and enjoyable. If you have any concerns about the site, please feel free to contact either of the site Administrators by clicking on one of the two links below:
Good luck, enjoy the site, and as always Happy Picking!
db